| | |
| --- | --- |
| | Share this page |
Sage Ordnance 37mm Box Magazine Launcher BML-37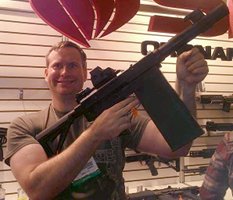 If there was anything at the 2014 SHOT show which I deemed utterly unnecessary but highly desirable in my civilian life, it was the Sage Ordnance BML-37. The BML-37 is the first 37mm launching system I've seen in its capacity range without a revolving cylinder (Milkor, Defense Technologies, Penn Arms, etc) or belt (Mk.19). The BML-37's box magazine is fixed in place so you can't change it out quickly, although its top-fed configuration does mean you could reload it faster than either of the other two options. The feed system also permits it to be "topped off" like a pump shotgun, which means you aren't stuck with the decision to either spend an extended time breaking open and reloading your launcher, or continue running with lower capacity. One potential logistical drawback to the BML-37 is the fact it uses the Arwen-37
cartridge system to avoid feed issues which would arise from the rims of conventional 37mm and 40mm munitions. However, Sage does sell reloading components for the Arwen round. The interesting thing about Arwen is that the cases are thick enough to handle being fired without being fully inserted into a chamber, unlike the thin-walled conventional 37mm and 40mm munitions you normally see. If the use of Arwen munitions is an issue, the "Deuce" two-shot over/under launcher can actually use standard 37mm and 40mm munitions (depending on which version you order). At first impression, anyone who's seen Warhammer 40k weapons will recognize its uncanny resemblance to a Bolter with a buttstock. I wouldn't be surprised to see a mid-budget WH40K movie using these, with a little bit of decoration, as bolters. And yes, it's pretty much impossible not to grin when you're holding one.

Pictures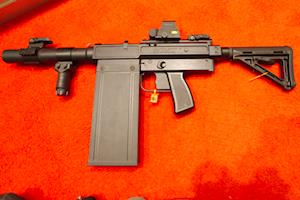 The left side. The magazine shown is single-stack, and holds 6 rounds.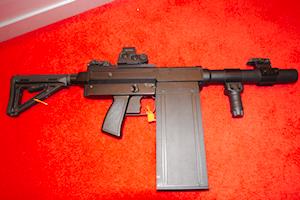 The right side. As is the trend, it accepts standard AR-15 carbine style buttstocks, and has picatinny rails for sights, forward grip, etc.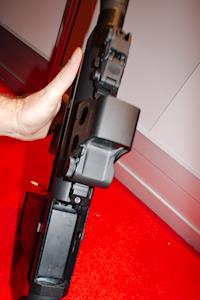 Immediately below the EOtech (the weapon is pointing barrel-down in this picture) is the top of the magazine. Notice that you can drop a shell right in, like an SKS or Mosin with the bolt open.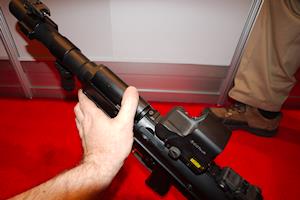 Indexing a dummy Arwen-37 round to be inserted into the action.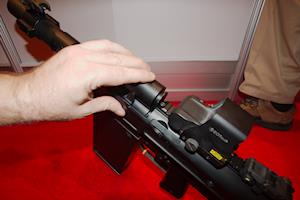 Pressing it down into the action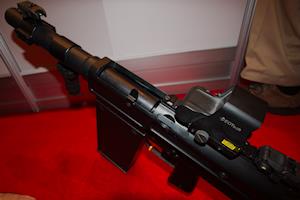 The BML-37 is now loaded with a few dummy rounds.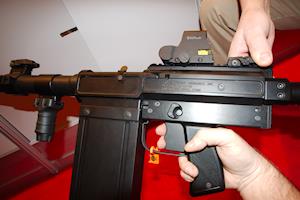 Notice that the trigger is huge - it's designed to be pulled with two fingers, not one. Why? Well, that's because of the fascinating action which the BML-37 uses. When you pull the trigger, you're actually cocking the weapon. The launcher does NOT use recoil energy to cycle - all power involved in cycling the weapon is provided by your trigger pull! This results in a heavy trigger pull which could be an issue in a more precision-critical instrument such as a rifle or a shotgun, but the expected accuracy out of a 37mm system is unlikely to be significantly affected. It is, after all, an area of effect weapon when launching tear gas, etc.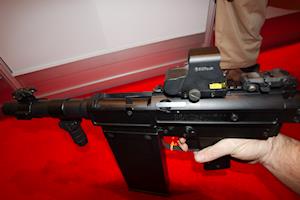 Starting to pull the trigger.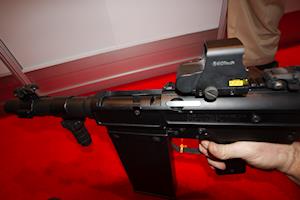 Trigger is almost completely pulled. Notice how the round has moved forward towards the chamber? Resistance is heavy because in addition to moving the shell forward, I'm ALSO charging the spring which will eject the casing after it's fired.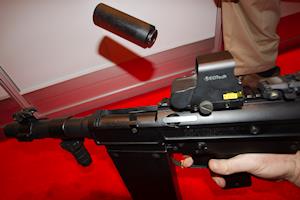 It's fired, and now that I release the trigger, the spent round ejects.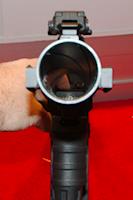 As you can see, this is a rifled bore... and staring down this during an encounter is likely to end very badly.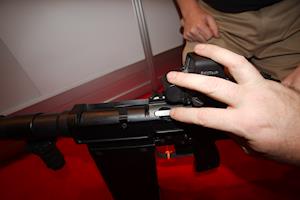 This control does something, and I don't remember what.


-- SeanNewton - 03 Jun 2014