| | |
| --- | --- |
| | Share this page |
5.11 Tactical's ATAC Gloves
5.11 Tactical was so kind as to send my wife and I a set of their ATAC tactical gloves for review. Given that my daily life is that of an IT professional, I don't get daily oppportunities to evaluate weapons handling with them. I do, however, perform a lot of tasks which require varying degrees of dexterity and I intend to perform my initial review on that basis. It should be noted that the preceding few lines were typed while wearing them (picture below). 5.11's gloves are a collaborative venture, manufactured by Ironclad Performance Wear to 5.11 Tactical's specifications. While a few of the features found in the ATAC gloves are present in various parts of Ironclad's own line of gloves, many features (primarily the armored parts) seem unique to the 5.11 line.
An Overview of 5.11's Glove Line
ATAC's occupy a middle ground in 5.11's duty glove lineup. One step below them is the Scene One glove, and one step above are the hard-knuckle Hard Time gloves. Californians should note that the Hard Time gloves are probably considered "plastic knuckles", which are illegal to sell per CPC 12020.1. Of course, as we well know from large capacity magazines, buying them in the state would also be illegal because it's a "conspiracy to sell". It would not appear that they would be illegal to possess, though - only to sell, buy, or import for sale. So you could import 'em all you want as long as you bought them out of state and do not ever sell them. At any rate, 5.11 sells a lot of different gloves, but these seem to be the core of their tactical line.
Initial Impressions of the ATAC's
When I first put on these gloves, they felt really tight - as others have observed, they feel about half a size smaller than the size they're marked as. Committed to my review, I continued to wear them, and determined that they loosened up over the course of the first half day or so. The main thing which others notice when they look at these gloves are that they look like motorcycle gloves, and the first thing most folks want to do when they put 'em on is find something hard to punch.
Structural Composition
Most of the striking surfaces - specifically a semi-rigid area extending from knuckles and back over the rear of the first, plus two patches over the joints of the thumb, are protected by foam-covered kevlar. The back of the fingers are covered in Thermo Plastic Rubber (TPR). The TPR sections of these gloves are, for lack of a better term, serrated for flexibility. This allows the wearer the protection of the thicker "hills" at the same time as the narrower "valleys" provide much greater flexibility. Visually, they add a bit of intimidation to the mix, as one naturally imagines how much being punched with this surface would hurt. The palms are covered with a flexible, thin, and tough textured fabric which feels almost like suede. It's cut and stitched in a number of places for much greater flexibility than a single solid piece would have had. The pattern used on the palm of the ATACs seems to be directly derived from Ironclad's line of work gloves.
Shooting
In January 2013, I finally got to test my gloves in moderately cold (around 45 degrees or so) weather. I found that they performed as expected, keeping my fingers warm enough to maintain dexterity, without preventing me from gripping things. While I had no doubt that magazine-fed guns would work fine, the real test was my single-shot Suhl 150 22LR rifle. I did have to 'tip' the box of ammo in order to remove the 22LR rounds, but this is a reasonable expectation.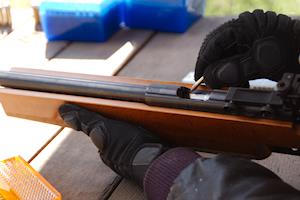 As you can see here, the gloves did provide enough dexterity to easily fit the round into the chamber.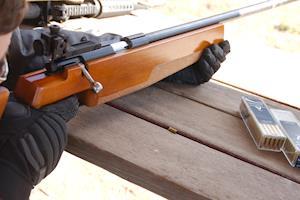 No issues gripping the rifle or working the trigger.

Various Everyday Life Experiences from Three Days of Wear
Given that I don't get out shooting as much as I'd like these days, I felt that the best way to get a feel for how these gloves affect me would be to wear them for three days straight at work. Given that I work in the IT industry, this meant a lot of strange looks around the office, particularly while typing with gloves on.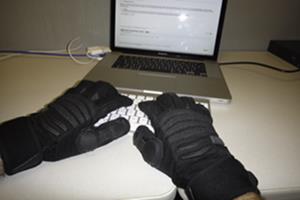 Typing on keyboards: Essentially, while wearing these gloves you'll be forced to maintain a "classic" typing posture, with your hands up and fingers striking directly down upon the keys. That having been said, if you do so, you'll be able to type relatively well. This was tested on a Macbook Pro and a wireless bluetooth keyboard. The key to success with both of these keyboards is that the keys are relatively wide, and spaced apart a decent amount. Narrower keys would be a substantial challenge, and accurate typing would be difficult.
Typing / Texting on Cellphones: Because of the very small keys involved and how wide your fingers are while wearing the gloves, trying to type on a cellphone keyboard isn't a realistic expectation while wearing these (or pretty much any) gloves. I was able to achieve reasonable success using the slimmer trigger fingers, but not with the rest of the gloves as I am accustomed to doing.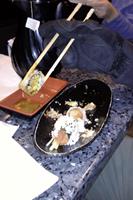 Eating with Chopsticks: On the third day of my test, my wife and I went for sushi. I found that while holding the chopsticks took considerably more strength due to the gloves' stiffness, I didn't really lose much dexterity; I figure that if I can eat with chopsticks effectively while wearing these gloves, shooting won't be considerably tougher.
Opening a soda can: This was a test of the slimmed-down trigger finger. While the other fingers have more material over them for protection, the trigger finger's covering is thinned down to provide a better tactile response for trigger pull. I found that while I couldn't operate the pull tab on a soda can with my other fingers, the trigger finger was able to do so without substantial difficulty.
Further Observations from Use
Reloading: As anyone who's tried to reload 308 brass using a Lee hand press, there can be a lot of force involved in resizing the brass. I happen to like processing my brass while watching movies though, and my wife prefers me in the living room instead of the reloading room. Given the amount of force required to resize brass in a hand press, the workout it provides is rather nice. Anyway, when resizing brass with the hand press with my bare hands, I tend to have to stop every few dozen rounds to let my palms take a break. The Lee hand press I use is great for convenience, but it wasn't designed for comfort and ergonomics. I decided to try wearing the ATAC's while resizing, and found that it greatly increased the amount of force I could exert without my hands hurting. Dexterity wasn't considerably degraded; the only down side I noticed was that it became harder to tell a properly lubed case from a lightly-lubed case due to the loss of tactile sensation in the fingers.
---
A Woman's Perspective on the 5.11 ATAC Gloves
By Texie Newton
In mid-2011, I attended a 4-day Defensive Handgun Course and a one-day Concealed Carry course in Front Sight in Pahrump, Nevada. Over the course of five days, from sun-up to sun-down in 100-degree heat, I shot between 500 and 600 rounds of 45ACP out of my CZ-97B. I didn't have shooting gloves at the time, and by the end of the course my hands were so blistered that I couldn't unscrew bottle caps or grasp things for several days afterward. It was obvious that I needed a set of quality shooting gloves, and when 5.11 offered me a review sample of their ATAC gloves, I decided to give them a try. Aesthetic impressions: The ATAC gloves are black with a velcro wrist strap, and resemble motorcycle gloves. The overall visual impression is aggressive, and meant for "business". The underside and back of the gloves are tough and rugged, and appear to be well-made, with double stitching in most areas for reinforcement. They are a neat, purpose-driven design. And any woman knows that black gloves will go with anything, although these might look a little too aggressive to take out on the town. Feel: While these gloves look bulky, they're neither heavy nor stiff. They feel like a more heavy-duty version of conventional work gloves. There's extra padding for hand protection and comfort. It's easy to get in and out of them, and they're comfortable enough to wear all day long. They're designed to protect your hands and provide a firm grip on your gun, and seem to have been optimized for breathability and to wick away sweat. After a day of use, I expected them to be soggy, but they were dry. I have thick hands for a woman, and the small size fit me perfectly.
Test activity: Shooting: I took them to the shooting range, firing the same CZ-97B which had blistered my hands over the course of my five days of class. With the level of cushioning that these gloves provided, there was no way that I would've developed blisters at my training course if I'd had these at the time. I also found that the inner surface of the gloves gripped my gun better than my bare hands - there was no slipping or sliding on the grip. The gloves' bulk didn't interfere with my trigger pull or hand placement. The texturized areas even made it easier to keep my hands locked in the same position while holding my pistol. They locked together almost like puzzle pieces. The extra padding around the palms, and wrists also seemed to absorb additional recoil, which improves the speed and accuracy of follow-up shots. When it was time to reload my magazines, the gloves didn't add a lot of difficulty. They also protected my fingers from getting rubbed by the magazine while loading, and prevented my finger tip from being nipped by my slide.
Test activity: Skiing: While a lot of effort seems to have been put into ensuring that these gloves don't overheat your hands, this has ensured that they aren't good cold-weather gloves. I took my gloves on a ski trip just to see what would happen, and my hands were freezing. They let the wind and water through readily, which shows that they're very breathable. While I whole-heartedly recommend these as breathable gloves, I do not recommend them in situations where people are trying to keep their hands warm. On a side note, though, they did grip my ski poles really well. I wish I could find ski gloves with grips as good as these!
Availability
5.11's shooting gloves category includes the ATAC, as well as numerous other offerings.
The specific gloves I am reviewing are here.
-- SeanNewton and TexieNewton - 04 Nov 2011