An Overview of Stockpile Logistics
Stockpile Logistics is a new (established 2013) company based out of Pahrump, Nevada. Their first product is the Bird of Prey compensator. At the SHOT show in 2014, the Bird of Prey compensator was over at the
Magna-Matic
table, and I was under the mistaken impression that they were a division of Magna-Matic.
Bird of Prey Compensator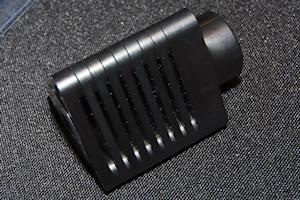 This is the "Bird of Prey" compensator. Unlike most brakes which are cut on a CNC lathe, the Bird of Prey is a stack of plates produced on a CNC mill, and then stacked together like coins. This construction gives it an unusual appearance, and I plan to evaluate its muzzle climb against a few other devices in a "muzzle brake showdown" later on this year.
--
SeanNewton
- 21 Jan 2014