Analysis of a Sig Sauer 30rd Magazine
This is part of the STANAG Magazine Comparison series.
Sig Sauer has been putting out STANAG magazines lately, to go with their Sig 556 series rifles. I typically don't venture into "impressions" in my reviews, but I feel in this case that I should. They feel cheap. They've got the Sig Sauer name stamped on them for some cool points, but for a sturdy magazine you're going to rely on, use a different magazine. Just as long as it isn't a Promag - the Sig magazine does feel significantly sturdier than those. The one neat thing which the Sig magazines add vs other magazines, is a set of slots on either side for a magazine connector. As for USGI parts compatibility, the Sig magazines do rely on a completely different set of body parts. Their follower, floorplate, and body can't interchange with any parts on a USGI STANAG magazine, however the spring is completely compatible and therefore these are usable as rebuild kits in California.
Sig Sauer 30rd Magazine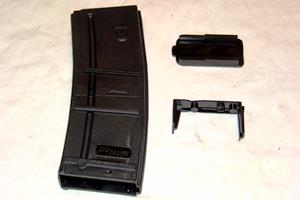 All of the body parts. Note the slots on the side of the magazine - this is for the Sig branded magazine connectors.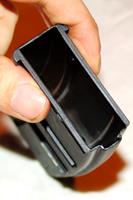 The underside of the Sig magazine body. Note the notches on the side, which are for locking in the floorplate. In order to slide off the floorplate, one must pinch the sides of the magazine hard and pull it off.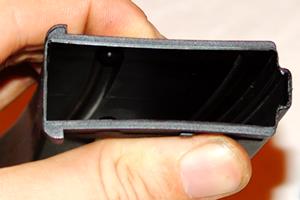 An example of how much one must pinch the magazine. Note the notch just above my thumb.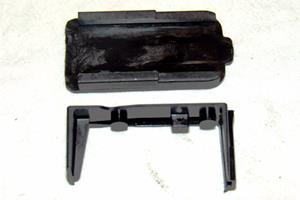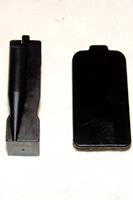 The follower and floorplate. Note that the profile of the follower (along the sides) is very different from a USGI follower.
Sliding the floorplate off the bottom. Note that once the floorplate is past the notches, it's not hard to slide off. It's just a matter of getting past that point.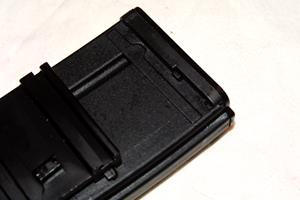 Detail on the lower half of the magazine. The floorplate is installed, and so is the magazine connector.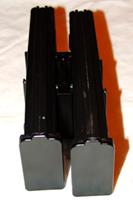 The two magazines, connected by the Sig Sauer connector. The magazines' slots both slide into the Sig connector. Because there are slots on both sides of the magazines, you can actually connect an unlimited number of magazines in this way. Note that the magazine to the right is lower than the magazine on the left. When inserted into an AR-15, the rifle's dust cover ends up on top of the magazine to the right.
--
SeanNewton
- 09 Jun 2011